TUBEWELLS AND BOREHOLES
Depth for depth on any given site, hand-dug wells may yield more water than tube wells, but tube wells 100 or 150 mm diameter are usually quicker and cheaper to sink, need no dewatering during sinking, require less lining material, are safer in construction and use, and involve less maintenance. From a hygienic point of view, the fact that a pump is needed to lift water from a tube well is an asset, not a liability.
This section describes some features of tube wells which have hand pumps, and two methods of sinking them in generally soft ground using only man-powered low-technology equipment, namely, hand auguring using a Vonder rig, and sludging.
Salient features

Some salient features of a simple tubewell are shown in the following diagram:


The casing - often in PVC, which is both cheap and inert - houses the inlet, cylinder, piston valves and rising main of a "down-the-hole" type handpump, which can be lifted out for maintenance or repair.
Seepage down the tubewell bore is prevented by the sanitary seal. Seepage from the ground above the aquifer is excluded by the lengths of plain casing. Water to be pumped is admitted through slots in the lower lengths of casing.
Casing to support the external surfaces of the borehole against collapse may be needed, either temporarily or permanently, but is not shown.

Water abstracted from aquifers in relatively soft ground usually contains sand or silt particles, which are liable to cause rapid wear to pump valves and cylinders (and dissatisfaction among consumers).


Methods of preventing these particles from reaching the pump are of two general types:

Screening
The drawing shows slots in the PVC casing which can be cut on site, using a hacksaw. More elaborate, and far more compact, screens are available commercially; some can be bolted on to pump inlets. Materials used include woven wire and man-made fabric; the latter can be wrapped around the pump inlet assembly.

Sand / gravel packing
The drawing shows graded sand and gravel, which is placed from the top of the borehole. More compact, pre-bonded, packs of sand and/or gravel are available commercially; some of these can also form part of the pump inlet assembly. Screening is nearly always needed, in some form. Sand and/or gravel packing are meant to eliminate particles from the water before they reach the screen and would otherwise have passed through the screen.

Developing the well
Over-pumping (that is, pumping at above the design-rate) before the well enters service can improve the efficiency of the packing by drawing further fine particles into it. Where the surrounding ground has many fine particles, the flow of water can be accelerated by back-flushing at a higher rate. This over-pumping and back-flushing is known as developing the tube well.

Sinking tube wells
Samples of the excavated material should be taken at regular intervals of depth (and also if the strata changes) and a borehole record should be kept. Particular attention is needed to maintain verticality. A "down-the-hole" pump which has been installed out of the vertical may be hard to operate and subject to excessive wear.

Auguring
Auguring cuts earth away by the rotation of a cylindrical tool with one or more cutting edges. The excavated earth feeds upwards inside the tool body, which needs lifting to the surface for emptying at intervals.This requires the whole auguring (drilling) train to be uncoupled and lifted; the weight involved can be considerable, and puts a limit to the depth of hand-operated auguring.

Auguring using the Vonder Rig
The Vonder Rig, manufactured in Zimbabwe and possibly elsewhere, can sink a tube well hole up to 170mm in diameter and about 115m deep in about two days in ground which is predominantly soft. The next drawing shows its salient parts, all of which are made of mild steel and can be carried by hand between sites.

The crossbar is friction-bolted to a stem, at a height suitable for pushing round by hand. Helpers can sit on it if auguring needs extra weight (or even if it doesn't). Additional stem sections are added as auguring proceeds.

Several shapes and sizes of auger-bit are provided, including a "hole-saw"; this is intended to tackle soft rock, but has rarely been successful. Thin layers of rock have been penetrated, however, by an improvised arrangement including a slow-speed diesel drive to the drilling train.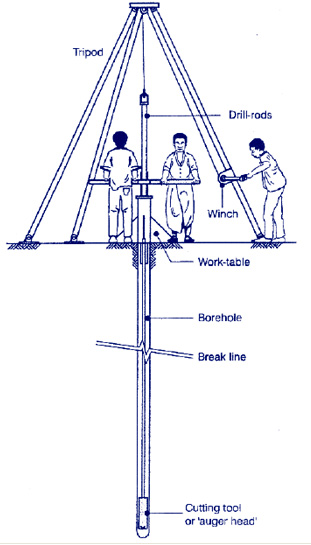 Sludging
Sludging is an effective method of sinking tube wells.

Sludging is a cheap but effective method of sinking small-diameter tube wells to a great depth in the water-logged silts and fine sands which underlie some flat river plains and deltas, notably those in the Indian subcontinent.

Tube wells 25mm and upwards in diameter (the larger ones are able to accommodate a "down-the-hole" pump) are sunk to depths of 60m or more. A boring pipe, usually a galvanized mild steel tube fitted with a case-hardened open socket at its base, moves vertically under the action of a bamboo lever pivoted on an H-frame.

The boring pipe rests initially in a shallow pit filled with a water/cow-dung mixture, which acts as a drilling mud and helps to stabilize the walls of the bored hole during drilling. Using a lever, two men raise and drop the pipe successively.

For the duration of each upstroke, another man seals the open top of the pipe with his hand, creating a partial vacuum inside it, so that the water within the pipe rises with it. He removes his hand for the down stroke, during which the pipe drops faster than the water inside it. As this hand-on / hand-off cycle repeats, water starts to gush from the top of the pipe and the whole assembly begins to work as an elementary force pump.

Soil, fluidized by repeated strokes of the case-hardened socket, is entrained into the upward flow of the water and the boring pipe sinks further into the ground with each stroke. Boring rates of 20m per hour have been achieved.

Additional lengths of boring pipe are attached successively until the required depth is reached. The whole pipe is then withdrawn and replaced by PVC rising main (for a suction pump) or PVC casing (for "down-the-hole" pumps).

The process of sludging is illustrated in the next diagram: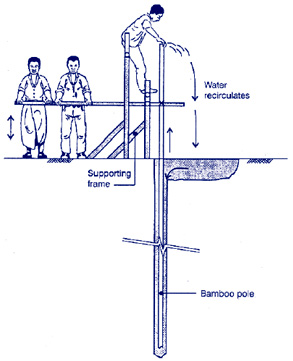 Anything that may be termed 'rock' is rarely met within these types of strata, but isolated stones, or groups of them, do occur occasionally. They totally inhibit sludging operations as just described, but a technique has been evolved which will usually deal with them.

On being stopped by a stone, the sludger boring pipe (with its open socket end) is withdrawn and replaced by a butt-jointed 'hammering pipe' which is fitted, at its base, with a cone of the same diameter as the open socket.

The latter can be used to protect the top end of the hammering pipe, which is driven down by a two-man operated weighted sleeve driver. When the stone has been successfully broken and passed, the hammering pipe is winched or jacked out, the sludge boring pipe with its open socket replaced, and normal sludging operations re-started.